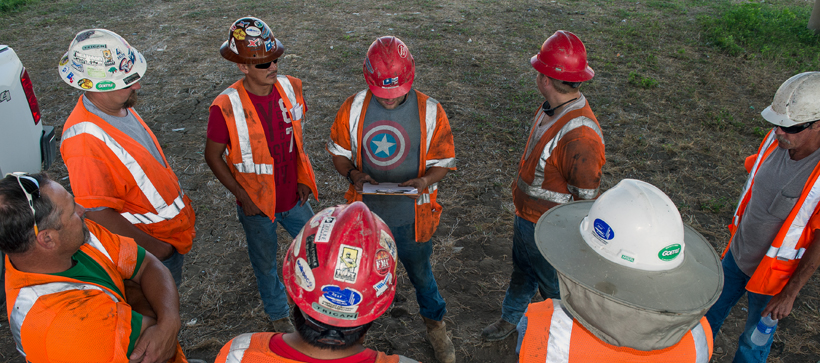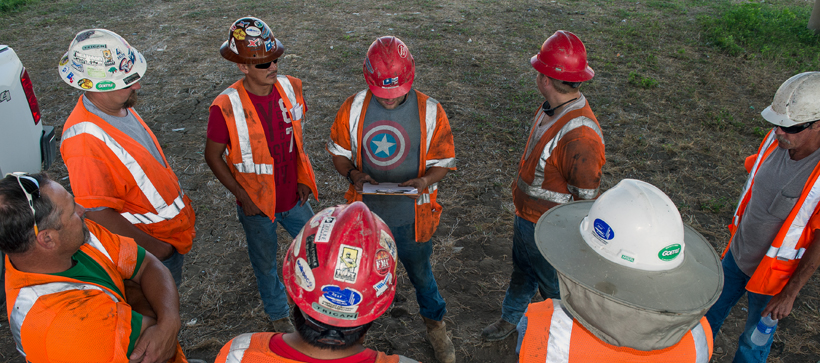 Safety at Texas Shafts
Safety Incentives
Texas Shafts' safety policy rewards employees for demonstrating safety on a daily basis as well as encouraging prompt reporting of any safety concerns. The incentive program recognizes employees that go the extra mile. Employees are recognized for their safety and driving records and are provided rewards quarterly. At the end of the year, all employees who have received all four quarterly safety awards are also eligible for special year end recognition and reward.
Safety Compliance
Texas Shafts monitors individual employee work and driving habits and uses worksite visits and subscribes to a service which monitors comments on employees driving to assist in enforcing safe work practices. Reports provided from the visits and monitoring are used as a tool to evaluate individual employee work habits as they move from one foreman to another. If the Safety Committee sees an unsafe work habit developing, the employee will b counseled to discuss the concerns. When disciplinary action is appropriate, the Executive Safety Committee has written guidelines, to provide a consistent mechanism to objectively hold employees accountable and determine what appropriate disciplinary action is necessary.
Safety Training
Texas Shafts is committed to training a safe workforce. During orientation, each new employee is issued a safety binder, which includes all corporate policies and informs each employee what is expected of him/her. In addition, Texas Shafts provides training throughout the year on various subjects such as: ADSC Down Hole Entry, 10 HR OSHA, Drilled Shaft Competent Person Training, First Aid/CPR, Forklift Certifications, Hazmat, Fall Protection and many other programs specific to each job site. Texas Shafts has also developed a Basic Crane operations training program. A full list of Texas Shafts training programs have been listed below.
Texas Shafts fully endorses the national certification program offered by the National Commission for the Certification of Crane Operators (NCCCO) and will continue to prepare candidates for the CCO certification examinations as needed. It is our goal that all our operators carry this accredited certification.
10 hour OSHA – Rick Marshall
ADSC Competent Person Training
ADSC Drill Operator School
ADSC Hydraulic School
ADSC Slurry School
AGC 10 Hour Construction Safety Outreach Course
AGC 10-Hour Occupational Safety and Health Training Course
AGC Construction Safety Programs & Crisis Management
AGC Construction Safety Specialist Class
AGC Flaggers Course
AGC Leaders Course
AGC Safety Conference
AGC Work Zone Traffic Control Course
Claims Management / Behavior Mortification
CPR FIRST AID
Crane Certification CCO 40 HR
Crane Operator School Certification- Granite
Crane School AB & R
Crane School Basics – Jim Brockway
Crane School Overhead – Gaffey
CYA Affirmative Action Seminar
Dart Rail Training
EEO – Texas Shafts, Inc
Forklift School – Texas Shafts, Inc
IMT TRAINING
Lock Out – Tag Out – TSA
MPTI Management Personnel Training Institute
Operator Training – Texas Shafts, Inc
Rapport Leadership International School
Rigging and Sling School – Crosby Group
SPTI Supervisor Personnel Training Institute
Strategic Training
TEEX CDL Training
TEEX Crane Basics
TEEX Crane Flagman
TEEX Crane Operator Training and Certification
TEEX Crane Safety for Safety Personnel and Supervisors
TEEX Hydraulic Crane
TEEX Lattice Boom Crane
TEEX Load and Tie Down for Truck Drivers
TEEX OSHA- 16 Hour
TEEX OSHA-10 Hour
TEEX Rigging and Basics with Hands-on Applications
TEEX Rigging Basics
TEEX Truck Driver Safety
TEEX Understanding Load Charts
Mentor Training
Working Safely
In addition to other programs implemented by Texas Shafts, worksite and pre-job inspection forms are used. The worksite inspection forms are utilized prior to the start of a shift and each superintendent goes through the checklist for the daily activities, instructing crews on how to deal with the hazards that will be encountered during that shift. Our pre-job inspection forms are used at the start of each project to evaluate the site and to note hazards and opportunities to ensure a safe worksite.