FOUNDATION DRILLING MAGAZINE | August 1998 | View PDF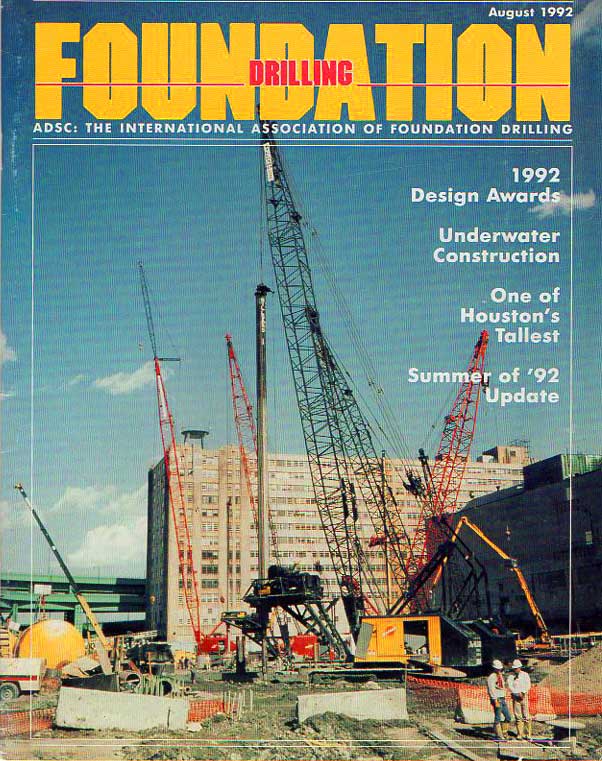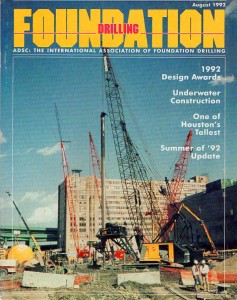 If you are involved at any level of management in the construction industry, you are acutely aware of the shortage of qualified workers. This applies almost equally to those already employed in construction, and to those who may be brought in to the industry in the future. This is true virtually everywhere. Articles appear in the construction industry press on a daily basis decrying the shortage of qualified and not qualified workers. The situation certainly applies in the foundation industries. It may even be more pronounced in this environment, as geo-construction is a rather obscure sub-industry.
In an effort to address the trend, the ADSC has established a Labor Task Force whose challenge is to tackle the problem of recruiting and retaining good workers. There are a myriad of issues that need to be dealt with, not the least of which is the overall perception of construction work as being dirty, physically demanding, low paying, and possessed of low social esteem. The reality may be different, but it is the perception that counts. The question becomes how does the geo-support industry find, and keep, good people?
While there are no simple answers, ADSC Contractor Member firm, Texas Shafts, Fort Worth, Texas, a mid-sized drilled shaft contractor, is breaking new ground in the employee-recruiting arena. Recognizing the need to develop quality field personnel, the company created a highly specialized pOSltlOn – Manager of Recruiting and Training. This person's sole responsibility is to find, train, and maintain "the best of the best" in a tough employment market.
The decision to create this posiForce whose challenge is to tackle the tion was a matter of economics. It takes approximately eight hours to process and interview one employee. There is a 10% success rate for hiring new employees, which equates to 80 man-hours invested in the hiring of each person. For a company the size of Texas Shafts, which will require the infusion of 20 employees every year, that's 1600 man-hours, ergo one employee's time dedicated solely to recruiting for almost one full year.
After reviewing the numbers, the management at Texas Shafts decided to give the program a try for a period of one year. On July 1, 1997, they hired Dave Brock as the Manager of Recruiting and Training. "He is bright, personable and dedicated to the task," Ty Savage, ADSC President and estimator for Texas Shafts, states.
Brock has an interesting background, which makes him ideally suited to the task of recruitment and development. He worked as a Human Resource Recruiting Specialist for GTE Telemarketing for a number of years. He has also been through the ranks of personnel, sales and supervisor's roles while working for an injection molding company. Adding to the professional skills he learned in the corporate world, Brock gained invaluable experience during his career on the Professional Rodeo Cowboys Association circuit. He was Rookie of the Year in 1972, and went on to become World's Champion Calf Roper in 1978. He qualified for the National Finals Rodeo ten times in both calf roping and steer wrestling. Currently, he continues to compete part-time. "The work ethic that made him a world champion can be transferred to anything," Savage states.
Brock's approach to recruiting new employees focuses more on the internal culture of the company rather than just aiming for quotas on new recruits. He has found that a well managed company that produces quality work, addresses safety issues, offers good benefits, fair wages, and is interested in the well being of its employees will be successful. "Word of mouth is your best sales person," Brock states. Creating continuity within your company enhances its ability to attract new employees. "Employees are the heart of a company, therefore creating an ongoing task of keeping this workforce intact," Brock emphasizes.
Getting a feel for the job conditions and skills required for each position is a part of Brock's job. As he evaluates each individual applicant, he is comparing their skills and abilities with those required by the position. His goal is to make the best fit for the position available. "An employee needs to make a living, have benefits and enjoy what they are doing or they will leave looking for that fulfillment." Brock states.
In addition to his recruiting duties, Brock is responsible for developing all training and evaluation programs. "Educating our employees is good for morale. It makes each employee more valuable to the company and builds self-esteem with the individual. The better educated our people are, the stronger our company will be," Brock states. Since joining the company, he has put in place a new-employee orientation (a three day program), crane operator training, commercial driver's license training, CPR training, Supervisor Schools, Welding Schools, Slurry Schools, safety training taught by the older employees, in-house training, and extension training through AGe. A new review program sets evaluations at 30 days, 90 days, and annually.
During the initial 90 day probationary period, Brock believes that it is the company's responsibility at Texas Shafts to "make a company wide effort to make sure new employees are finding a place within the workforce." Brock maintains his involvement with the new employee during this time as much as possible, staying abreast with what's going on in the field and communicating with the new employee as often as possible. "It's better for me to solve problems before they happen," Brock states.
Dave Brock's proactive approach to employee development has made this past year at Texas Shafts a great success. The company's workforce was increased 33% over the past year, and upper management believes employee quality, while difficult to measure, has increased Significantly The position of recruiter/trainer will continue to be an invaluable member of the Texas Shafts team, helping them to achieve their goals. "We must promote our business by having pride, quality jobs, educational programs, and opportunities for young and old alike to have a good life. We must work together," Brock concludes.